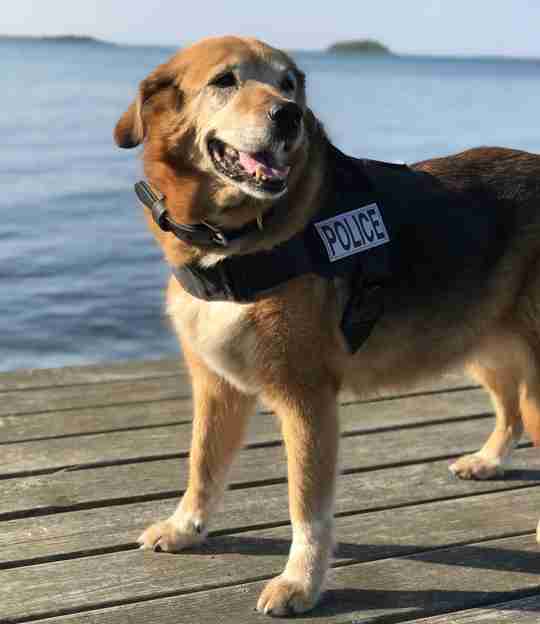 OUR MISSION
To protect those who protected our families, communities, and our America.
OUR VISION
To ensure the best quality of life for our nation's retired Military Working Dogs and Police K-9 Heroes through providing assistance with medical costs, food, and end of duty services.
OUR PURPOSE



To ensure each K-9 Hero is rewarded with health and the way of life that they deserve for their faithful and loyal service.
To educate the public on the costs and responsibilities of adopting a retired K-9 Hero.
To help cover or offset all medical, food, and end of duty costs for retired K-9 Heroes.
HOW WE SERVE YOUR RETIRED K-9
Retired Military Working Dogs and Police K-9 Heroes accepted into Project K-9 Hero will have up to $3,000.00 per year in medical costs covered for them. Project K-9 Hero will also cover the K-9's food costs and have food shipped directly to the owner's residence. Project K-9 Hero additionally provides $500.00 to the owner when the K-9 is deceased for cremation or burial service. Any remaining funds out of the $3000.00 annual medical allotment will go into our general emergency medical fund available to all K-9's in our program for surgeries or other medical expenses that may exceed the annual benefit. This is all, of course, dependent on funding raised through donations.
Project K-9 Hero aims to educate the public via professional speaking, conferences, mail, and email on the costs and responsibilities that are necessary when adopting or caring for a retired Military Working Dog or Police K-9 Hero. While a K-9's medical costs are fully covered by their local, state, or federal law enforcement agency when they are working, they are no longer covered for any costs
once they retire. In almost all instances, the responsibility for caring for the retired hero falls solely on the volunteers who adopt the K-9. K-9 Heroes are worked until they can no longer perform their duties due to health reasons. In their older age of retirement, they need our help the most in making sure they are able to live a comfortable life and are able to enjoy their retirement for as long as possible.
K-9's accepted into Project K-9 Hero will be selected by the existing board members. Owners of retired K-9's will need to submit an application, bio of the K-9's career and several photos of the K-9 working and at home. The board will look at each application thoroughly and allow a retired K-9 in the program if the funds are available to support it. Through your donation, we look forward to taking in as many Retired K-9 Heroes as we can support, ensuring a comfortable and enjoyable retirement in return for their dedication to supporting us and our communities. If you would like to learn how you can get your Retired K-9 Hero into our program, please email us a brief description and background on your K-9 to receive an application from our Board of Directors.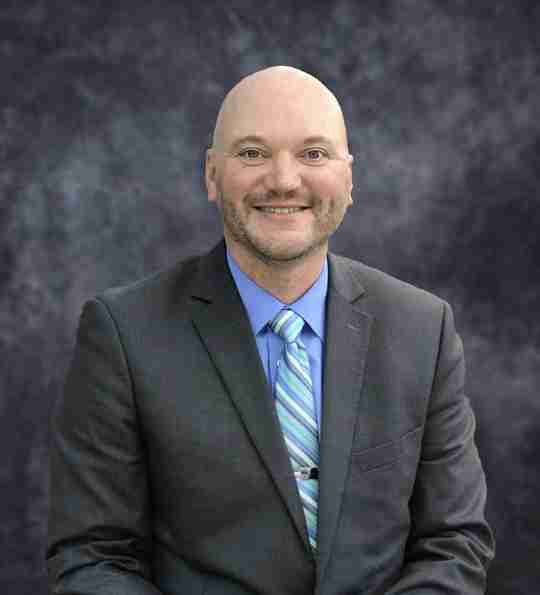 Jason Johnson has a passion for Police K-9's and he has dedicated his life to working with them, as well as training and taking care of them. Jason believes that Police K-9's perform selflessly for the departments and agencies they work for, and in return, they are not offered that same respect, in their retirement years, by those they served. It is Jason's goal to ensure he educates the public on the costs and responsibilities of adopting a retired hero and that every Police K-9 in the United States has their medical, food and end of duty costs taken care of for them so they may live the healthy and happy retirement that they deserve.
After volunteering his time for three years at the inception of the organization, Jason now acts as the CEO of Project K-9 Hero. Jason is also the CEO of Paradigm Defense Concepts and the CEO of K-9 Solutions International (K-9SI), where he manages domestic and international K-9 detection as well as defense contracts, training, and consulting services with civilian and government agencies worldwide. Since founding Project K-9 Hero, Jason has been working hard to grow the foundation so that he can serve as many retired K-9 heroes as possible.
Before he founded Project K-9 Hero, Jason served as a Field Canine Coordinator for the Department of Homeland Security, where he provided program oversight and subject matter expertise to law enforcement canine teams and federal canine teams. He provided leadership, technical advice, guidance and direction to ensure the overall effectiveness and utilization of explosive detection K-9 teams. He ensured that national program policy, standards and guidelines were communicated in a clear and effective manner to a variety of internal and external stakeholders, while also ensuring adherence to such measures. He served as a K-9 liaison to civilian and law enforcement officials on the federal, state and local government levels.
Prior to working as Field Canine Coordinator, Jason was a K-9 Trainer/Instructor and Course Developer for Bureau of Alcohol, Tobacco, Firearms and Explosives. He planned, developed and was the Lead Instructor for Explosive Detection Courses to a variety of domestic and International Federal Agents, law enforcement and U.S. Military. He trained, instructed and certified students in multiple federal agencies such as the Bureau of Alcohol, Tobacco, Firearms
and Explosives, U.S. Marshals Service, Federal Bureau of Investigation, Central Intelligence Agency, National Geospatial Intelligence Agency, Department of Homeland Security/Federal Emergency Management Agency and many other state and local departments working specifically in explosives detection. He worked with the Military Working Dog (MWD) program, providing Home-Made Explosives training to over 1,000 MWD's prior to their deployment to high-threat areas such as Iraq and Afghanistan. He was also involved in developing and instructing the agency's first off leash detection program, SEEK (Search Enhanced Evidence K-9), and the agency's first SRT (Special Response Team) dual purpose patrol/explosives detection canine. He instructed explosive detection canine courses for the U.S. Department of State's Anti-Terrorism Assistance Program, which served over 21 International countries. Jason was the 2011 recipient of the Johnny A. Masengale Memorial Award, which is given out nationally to those who made outstanding contributions in the explosives field.
Prior to working for the ATF, Jason served as an Explosive Detection K-9 Handler, Trainer, Kennel Master and Protective Security
Specialist for the U.S. Department of State in support of the Worldwide Personal Protection Services contract with U.S. Diplomatic Security throughout Iraq and Afghanistan. He was assigned as one of the primary explosive detection handlers to the U.S. Ambassador and the Regional Security Officer at the U.S. Embassy in Kabul, and was the lead K-9 handler used in the 2009 Afghanistan Presidential Elections. He was the lead K-9 handler used in the 2008 Iraqi elections for South – Central Iraq providing explosive detection sweeps for the U.S. Department of State, the Central Intelligence Agency, and the U.S. Department of Defense along with various other governmental agencies and programs.
Jason also served as a Police Officer for the City of Yakima, WA, and the City of Puyallup, WA. During that time, he specialized as a K-9 Handler and K-9 Trainer with the Washington State Police Canine Association. His additional duties included being a member of the SWAT Team, a Defensive Tactics Instructor, a Field Training Officer and the Officer in Charge of the Honor Guard.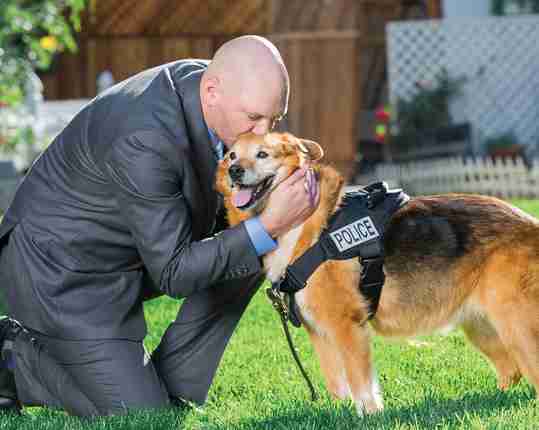 Jason honorably served in the United States Army as a Military Police Officer, where he received numerous awards and recognition throughout his assignments for his service. Jason holds a Master's of Science and a Bachelor's of Science from Bellevue University in Security Management. He has served as an adjunct professor at Henley-Putnam University, teaching a Master's program in Advanced Executive Protection. Jason is an accomplished author and has contributed chapters for two separate University text books, used for teaching at the Master's level in Strategic Security. He was published in both K-9 Cop and Police K-9 magazines with featured articles. Jason has also published his own children's book about his inspiration to start this organization, titled "K-9 Flash Becomes A Hero." K-9 Flash was named the 2018 Law Enforcement Dog of the Year in country by the American Humane. Jason actively works with Congress to see that his vision of the K-9 Hero Act, HR #5081, gets passed as a law to bring a positive change to the K-9 Community for generations to follow.

Rehabilitation and Rehoming Facility
We can help more retired K-9s with a Rehabilitation and Rehoming Facility. Click the button below to learn more about the facility.