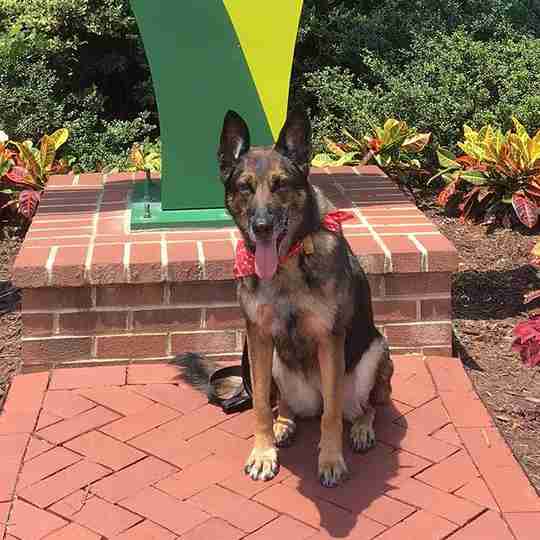 Name: K-9 "Ada"
Agency: U.S. Department of State High Threat Protection
Discipline: Single Purpose Explosives Detection
Breed: Belgium Malinois
Date of Birth: July 5, 2005
End of Duty: August 31, 2018
Sex: Female
Formal Schooling and Certifications: K-9 Ada attended her initial training in Moyock, NC at the U.S. Department of State Training Facility. She was certified by the U.S. State Department and the North American Police Work Dog Association in Explosives Detection.
Career Stats: K-9 Ada originally deployed to Baghdad, Iraq in support of the Department of State Worldwide Protective Services Program in 2007. Ada performed countless explosive detection sweeps for the U.S. Ambassador, U.S. Military, Department of Defense, Central Intelligence Agency, and Foreign Dignitaries throughout Iraq. Ada flawlessly performed hundreds of missions without ever losing a VIP she was responsible for safe guarding in one of the most austere environments in the world. Due to Ada's ability to adapt to any environment and her high level of confidence she displayed in Iraq, she was transferred to Kabul, Afghanistan in support of State Department operations in July of 2008. She continued to conduct countless missions with the U.S. Ambassador's Protection Detail Advance Teams to help secure venues for the arrival of dignitaries and key meetings between the United States and Foreign Leaders. Ada was one of the primary K-9's used in the 2009 Afghanistan Presidential Elections.
Additional Information: K-9 Ada retired from government service in 2014 after faithfully serving a total of seven years in Iraq and Afghanistan without ever taking any break or returning to the United
States. Due to her excellent detection abilities, Ada continued to enjoy working in the United States for a private explosive detection company, Dogs for Defense. After serving our U.S. Government so fearlessly Ada continued to protect the American public working at various venues in and around the Virginia area to include amusement parks, holiday celebrations, and large corporate gatherings to help detect explosives devices and prevent an act of terrorism on American soil. K-9 Ada fully retired in September of 2017, and now lives at home with her last handler and family in Virginia.
K-9 Ada was inducted into the Project K-9 Hero Foundation in June of 2018, and her medical assistance is being sponsored by the Herzberg Family of Virginia. The Herzberg Family has committed to donating $3,000.00 a year to cover Ada's medical costs and what remaining funds that she doesn't use will go into helping the other K-9 Heroes we care for on a weekly basis. It is because of supporters like the Herzberg Family that we are able to do what we do for retired K-9's like Ada. If you or your company would like to sponsor a K-9 from your home state, please feel free to contact Project K-9 Hero and help "Protect Those Who Protected Us!"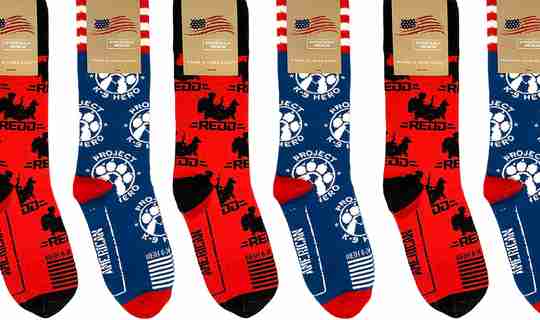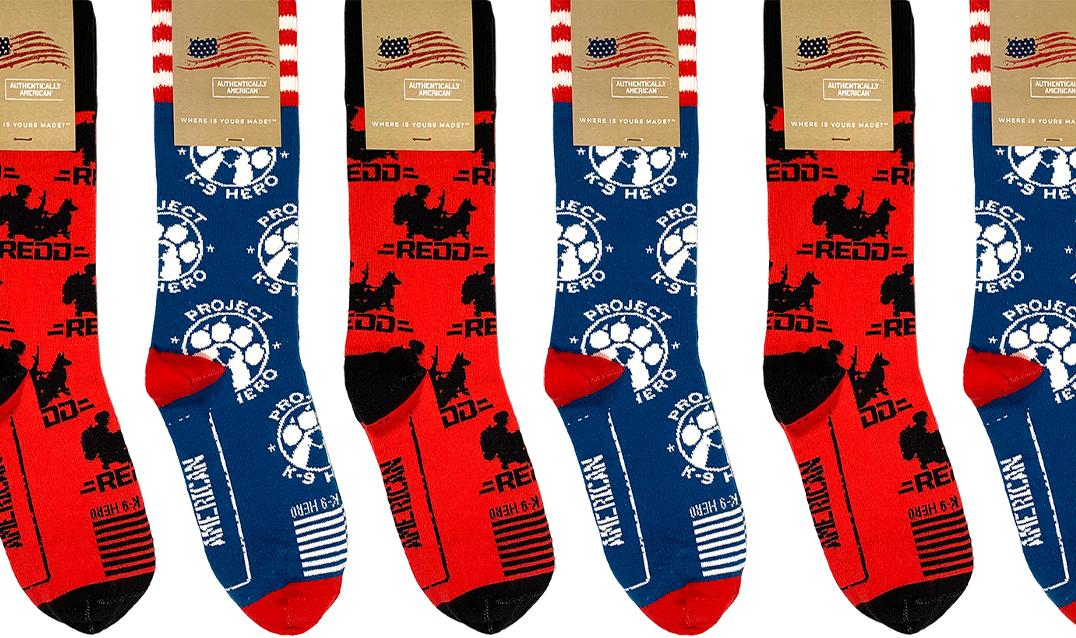 Keep feet toasty and support K-9 Heroes.
For a $20 donation, we will send you a pair of "Project K-9 Hero Socks" by Authentically American. The socks feature fine combed cotton. The Project K-9 Hero Socks by Authentically American will look great in your wardrobe while showing support for a cause protecting those retired K-9 Heroes that protected our communities.