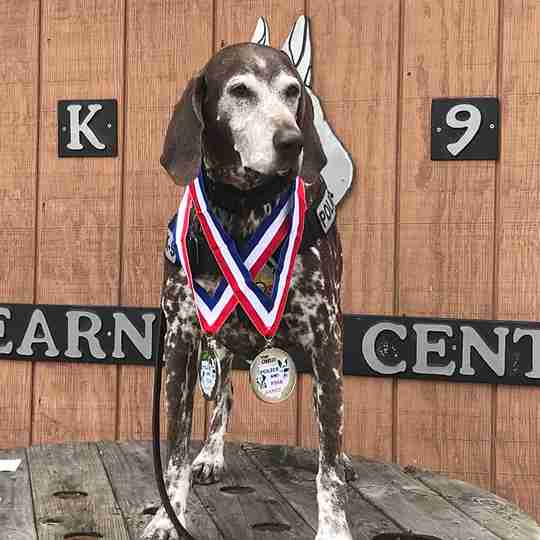 Name: K-9 "Adler" T-528
Agency: National Explosive Detection K-9 Team Program (Columbus Regional Airport Authority Police Department)
Discipline: Explosives Detection
Breed: German Shorthaired Pointer
Date of Birth: July 20, 2010
End of Duty: February, 2020
Sex: Male
Formal Schooling and Certifications: National Explosive Detection Canine Training Program at Lackland Air Force Base, San Antonio, Texas.
Career Stats: Adler was a certified TSA Explosive Detection K-9 for the Columbus Regional Airport Authority Police Department for seven years (2012-2019). He has provided K-9 support for the largest event in the country, Super Bowl LII in Minneapolis, Minnesota. Adler was selected to work K-9 support to protect the American Public attending the G3 summit in Pittsburg, Pennsylvania as well as working at the Republican National Convention in Cleveland, Ohio. Adler has had the distinct honor to work K-9 support on numerous visits by the President and the Vice President of the United States. Adler has won numerous gold, silver, and bronze medals throughout his career while competing in the Ohio Police and Fire Games.
Unfortunately, Adler doesn't get around quite as well due to medical conditions but he now enjoys relaxing at home with his family and two sibling dogs. Although Adler still loved his job, he was forced to retire on February 14th of 2019, due to being diagnosed with lower lumbar sacral disease. He is on two pain and anti-inflammatory medications to help him remain mobile. This is a very expensive medication that doctors say Adler may have to take for the rest of his life. Adler also has several tumors that will need to be removed, that Project K-9 Hero is committed to paying for. Although Adler's ability to move has gotten worse, he still gets up and wants to go to work every day. It's hard to keep heroes like Adler down.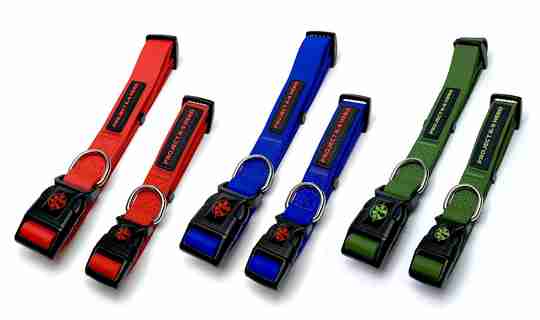 Give to your dog. Give to K-9 Heroes.
For a $22 donation, we will send you a large "Project K-9 Hero Dog Collar." Choose from five different color combos. The Collar features a secure, side-release snap buckle with our logo on it and a strong, steel gunmetal grey "d" ring for easy leash attachment. This Collar will look great on your dog while showing support to protecting those who protected us. Also available in size small.