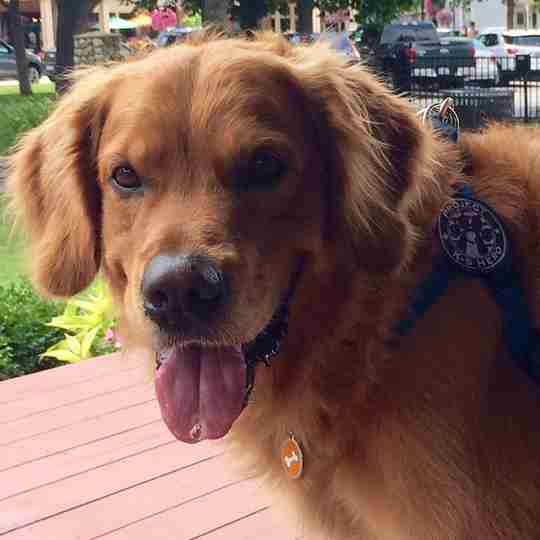 Name: K-9 "Bart"
Agency: Department of Homeland Security/TSA
Discipline: Passenger Screening Explosives Detection
Breed: Golden Retriever
Date of Birth: February 10, 2012
Sex: Male
Formal Schooling and Certifications: Passenger Screening Explosive Detection Training at Lackland Air Force Base, Bexar County, Texas.
Career Stats: Worked as a TSA Passenger Screening Canine at MCI Kansas City International Airport, Kansas City, Missouri, and MDW Midway International Airport, Chicago, Illinois.
K-9 Bart was brought to Lackland AFB to complete his training of becoming a Passenger Screening Canine around the age of one year old. From there he was assigned his human partner through Department of Homeland Security/TSA. Upon completion of his training, they both were relocated to Kansas City where they worked tirelessly in protecting the airport and it's travelers (with a passenger flow of approximately 10.5 million). It was during late 2014, when K-9 Bart and his handler were then transferred to work in Chicago. During this time K-9 Bart added to his fan base as he was diligent during his duties and also acted as a liaison when patrolling the concourses.
In 2016, Midway Airport had a passenger flow of roughly 24 million. It was during August 2016, when Bart's medical condition was discovered. Bart began showing signs of Exercise Induced Hyperthermia which caused him to overheat quickly and limited his
working time. This medical condition could not be treated to the point where Bart would be able to remain working with TSA. Bart was forced to retire earlier than expected, and losing all of his government funded medical care when he needed it the most.
Since September 2016, K-9 Bart has been spending his retirement days in the southwest suburbs of Will County, Illinois, where he is making new friends during his walks and play in the park (which also happens to be near his favorite pet food store). K-9 Bart is also a very active dog as he constantly wants to play catch or tug-o-war with his preferred toy that was given to him by his former handler. Bart became very ill and was stricken with emergency surgery situation that cost $2500 in June of 2017. Although not yet in our program, Project K-9 Hero, was made aware of this situation and stepped up and raised those funds within a week through our dedicated donors, sponsors, and partners. In October of 2017, Bart was granted entry into our program because of his special needs and the financial burden he placed on his new owner and we are committed to making sure his medical needs are met for as long as Bart requires assistance.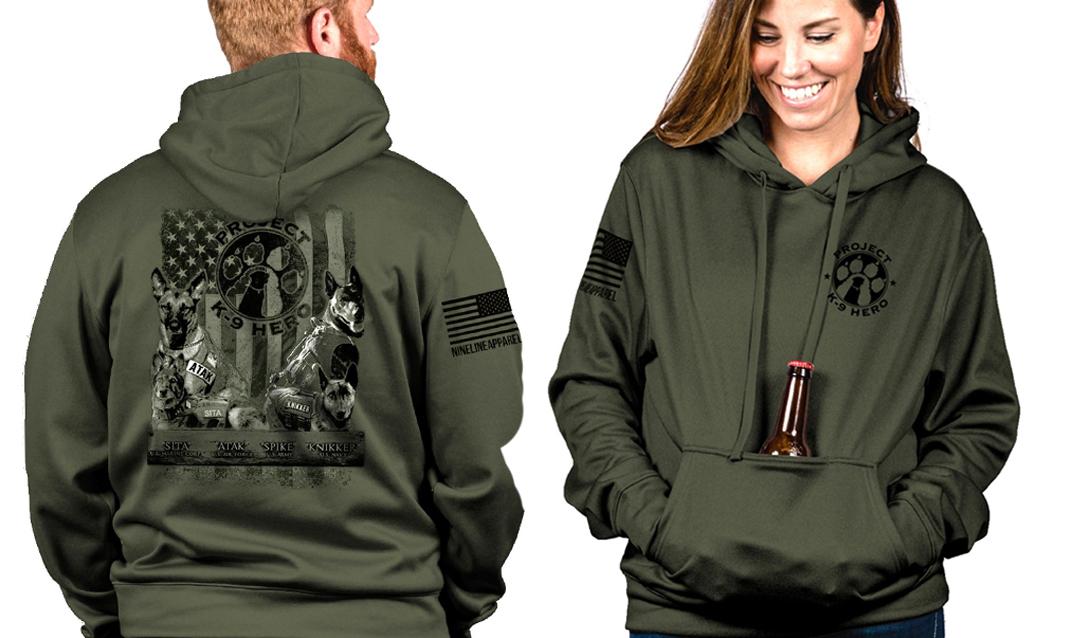 Stay warm and support K-9 Heroes.
For a $55 Donation, we will send you a "Project K-9 Hero MWD Tailgater Hoodie" by Nine Line in OD Green. This hoodie will look great in your wardrobe while showing support for a cause protecting those retired K-9 Heroes that protected our communities. This 100% polyester athletic hoodie is built for any party or tailgate, with a built-in insulated beverage holder right in the pouch pocket!