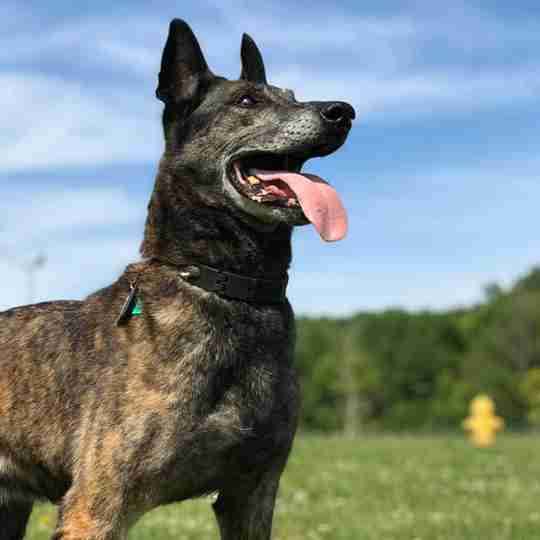 Name: "Jet Li" was named after fallen Naval Special Warfare K-9 Handler, Master-at-Arms Petty Officer 1st Class (Expeditionary Warfare Specialist) John "Jet Li" Douangdara, who was Killed in Action on August 6th, 2011 in Afghanistan. Original name as a Military Working Dog was "Knikker" while assigned to the Naval Special Warfare Gold Squadron.
Agency: Indianapolis Metropolitan Police Department (2011-2017). US Navy Special Warfare prior to becoming a Police K9 (2007-2011).
Disciplines: Dual Purpose – Patrol and Narcotics Detection
Breed: Dutch Shepherd
Date of Birth: October 14, 2006
End of Duty: October 20, 2019
Sex: Male
Career Stats: Military Working Dog Knikker completed two tours in Iraq where he sought out and apprehended High-Value Targets for the Department of Defense Special Operations Command along with countless narcotics finds. As a Police K-9 "Jet" had over 100 criminal apprehensions for the City of Indianapolis along with countless Narcotic related finds.
Police K-9 "Jet Li" was originally breed and procured in the Netherlands to become a Military Working Dog for the U.S. Special Operations Command and specifically for the Naval Special Warfare Unit. Jet served during the war on terror completing two deployments in Iraq before retiring from the U.S. Navy in 2011. Jet was then donated to the Indianapolis Metropolitan Police Department K-9 unit serving the citizens of Indianapolis. During his 5+ years with the IMPD K9 Unit, Jet apprehended nearly 100 dangerous criminal suspects. On many of these apprehensions, K-9 Jet alerted to the presence of a suspect long before his police handler could see the suspect. This undoubtedly protected the police officers from impending dangers, inherent to searching for and apprehending criminal suspects.
In January of 2017, Project K-9 Hero was contacted about helping the Indianapolis Metropolitan Police Department find a permanent home for Jet where he can enjoy his 2nd retirement and be properly taken care of for his faithful service to our country. Due to the incredible story of this K-9 Hero, our Founder, Jason Johnson, contacted the Gold Star Family members of the late Navy Military Working Dog handler, John Douangdara, since Jet was named after him. John's older brother, was elated at the opportunity to adopt, Jet, and worked with Project K-9 Hero to make the transition as smoothly as possible to fly Jet from Indianapolis to his home near Sioux City. Project K-9 Hero paid for the flight to deliver Jet to his new home with the Douangdara Family and is committed to assisting them with other funds if necessary with medical costs, food, or death benefit. We are honored that Police K-9 "Jet Li" formerly MWD "Knikker" was able to find a new home for life with the immediate family of the hero he was named after.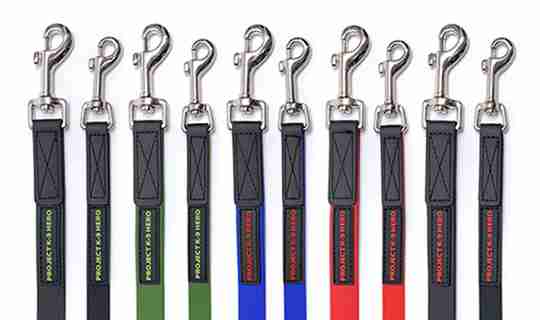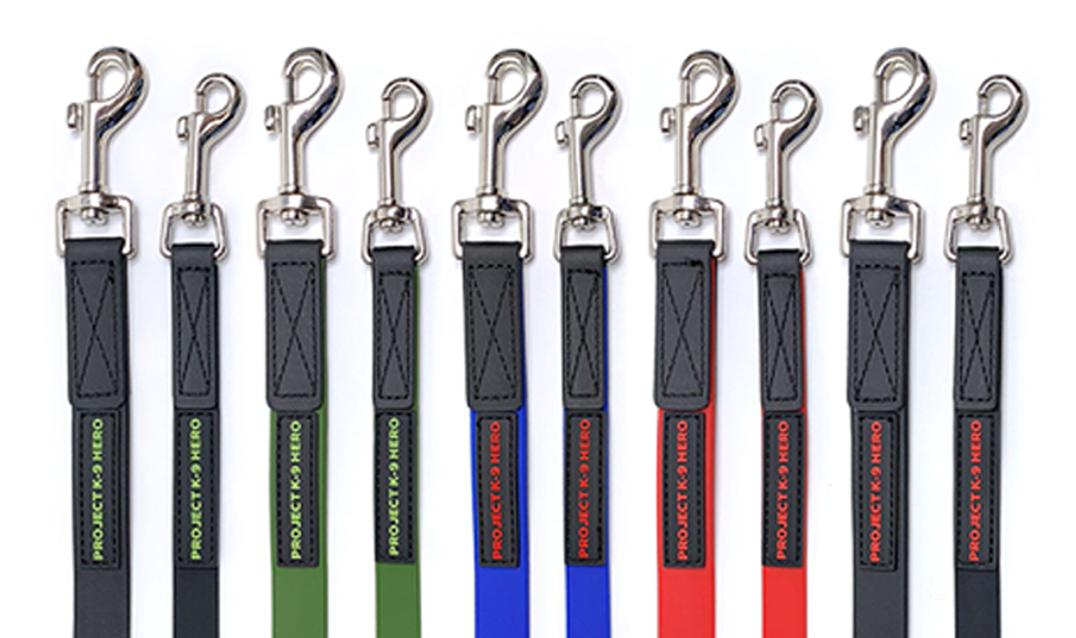 Give to your dog. Give to K-9 Heroes.
For a $28 donation, we will send you a large "Project K-9 Hero Dog Lead." Choose from five different color combos. The lead features a comfort grip handle thanks to the foam lined interior. On the other end is a high quality gunmetal grey bolt snap for easy collar attachment. This lead will look great on your dog while showing support to protecting those who protected us. Also available in small.