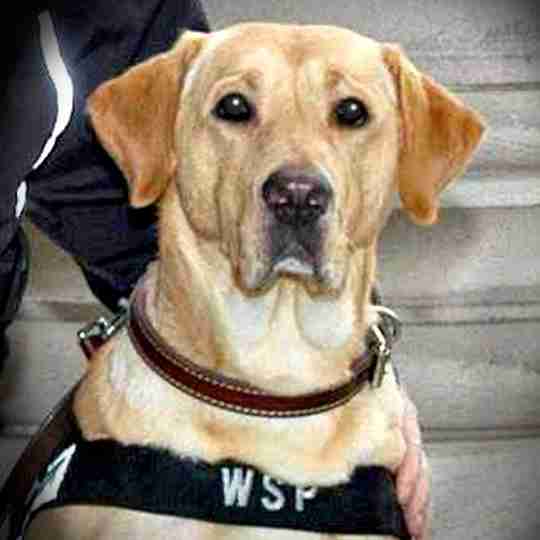 Name: K-9 "Johnny Ringo"
Agency: Washington State Patrol, Ellensburg, WA
Discipline: Single Purpose Narcotics Detection
Breed: Labrador Retriever (Male)
Date of Birth: September 25, 2002
End Of Duty: October 9, 2017
Sex: Male
Formal Schooling and Certifications: K-9 Ringo attended an eight week Narcotics Detection Course with the Washington State Patrol and the U.S. Border Patrol in April, 2004. He was certified in Narcotics Detection with the Washington State Patrol, U.S. Border Patrol, The California Narcotics Canine Association and The National Narcotic Detection Dog Association. K-9 Ringo retired in April of 2013.
Career Stats: K-9 Ringo had approximately 700 deployments in his career resulting in over 580 Narcotic related finds.

K-9 Ringo was donated to the Washington State Patrol by a family from Tacoma, WA. Ringo was too much for their small city lot and they were looking for a new home for him. Ringo was brought to the Washington State Patrol K-9 training Center in Shelton, WA in April of 2004. Ringo's handler liked him because he was the only dog at the training center that was not constantly barking. Ringo spent his working career in both Kittitas and Yakima Counties. He was assigned the job of traffic law enforcement. Within the first month of working on road, Ringo had one of the largest Methamphetamine seizures in the history of the State of Washington. Throughout his career, Ringo had worked with numerous federal, state and local agencies throughout Washington. He performed numerous demonstrations for community groups and school children. He was a gentle lab that every child wanted to hug. When Ringo retired, he was credited with seizing over one million in US Currency, over 1,000 pounds of Marijuana and several pounds of Methamphetamine, cocaine and Heroin.
Ringo spent his retirement with his initial handler and trainer, Trooper Paul Woodside and his family. He enjoyed living his retirement days like a dog should. He took long naps in front of the
fireplace and got plenty of dog treats. His handler has a new Narcotics Detection canine living at home as well. Every day Ringo was ready to go to work but had to stay home and enjoy retired life. Within the first year of retirement, Ringo developed a medical condition known as Laryngeal Paralysis. Laryngeal Paralysis is a condition where the Larynx begins to lose function and the larynx, or windpipe, stays closed. This condition makes the dog unable to breath and if left untreated, the dog will eventually suffocate and die. In the spring of 2014, his family elected to perform a life-saving surgery called Laryngeal-tie-back surgery at Washington State University. This was a $3,500 expense from the family budget and was not covered by the Washington State Patrol because he was now retired. Immediately after the surgery, Ringo could breathe normally. This surgery bought him a few more years to enjoy life. The family said it was the best $3,500.00 they ever spent because it bought more time with K-9 Ringo. It is because of surgeries like this that we decided to start the Project K-9 Hero Foundation as not every family can afford that expense.
Sadly, K-9 Ringo passed away in 2017, and Project K-9 Hero was honored to pay his end of duty services, cremation, and provide a custom portrait that was given to his family on our behalf to always remember him by.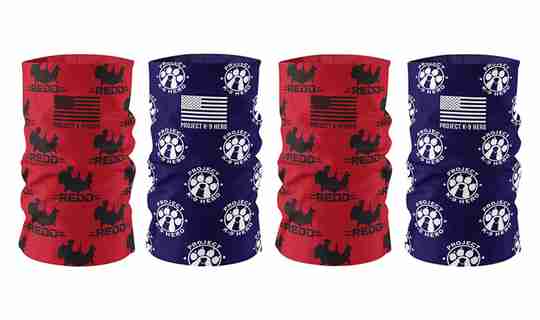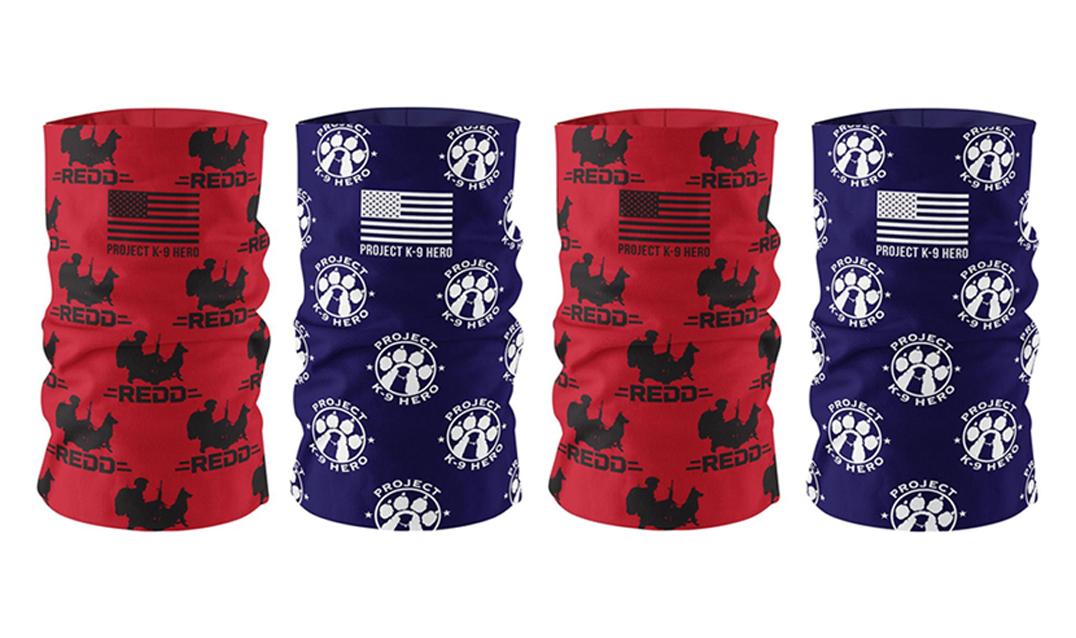 Support K-9 Heroes and get a gaiter.
For your $18 donation, we will send you a Neck Gaiter in your choice of print. Use it as a bandana, neck gaiter, sun guard, hairband, scrunchie, armband, wristband, scarf, or neck warmer. The stretchable and breathable polyester material is lightweight and comfortable, yet it wicks away moisture in the heat and insulates against cold when the weather turns.