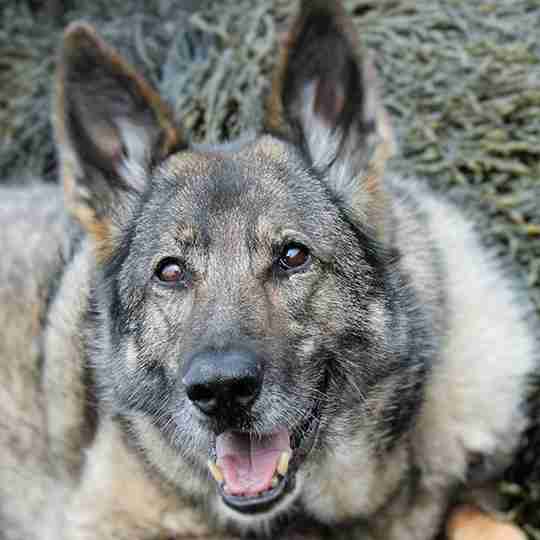 Name: K-9 "Kirby"
Agency: Bensalem Township Police Department, Bensalem, PA
Discipline: Single Purpose Narcotics Detection
Breed: German Shepherd
Date of Birth: March 12, 2004
End of Duty: March 16, 2019
Sex: Female
Formal Schooling and Certifications: K-9 Kirby attended a six week Narcotics Detection Course in the Greater Philadelphia area in March, 2007. She was certified annually in Narcotics Detection with the United States Police Canine Association.
Career Stats: K-9 Kirby had over 4000 deployments in her career resulting in the seizure of over $105 million in narcotics and Drug tainted currency. K-9 Kirby was responsible for the seizure of over 240 kilograms of cocaine, 50 kilograms of heroin, 5 tons of Marijuana and $15 million in currency.
K-9 Kirby chose her human partner through a company based out of Sanford, NC. She began training in January of 2007 and began her career on the street in March of 2007. K-9 Kirby spent her entire career at the Bensalem Township Police Department in Bensalem, PA from 2007 – 2014. K-9 Kirby spent her entire career assigned to the DEA Task Force in Philadelphia, PA. During that time K-9 Kirby worked with the DEA, FBI, ATF, DHS, USPIS, Philadelphia District Attorney's Office and the Philadelphia Police Department.
In 2012, the American Kennel Club granted K-9 Kirby the Award for Canine Excellence/Law Enforcement Division during the 2012 AKC/Eukanuba National Dog Show. In 2013, She was also honored by the German Shepherd Dog of America on their 100 year anniversary. K-9 Kirby now spends her retirement days lounging with two other dogs at the house. K-9 Kirby is still an active dog and enjoys camping and hanging out with her family. Even at 13 years old she still acts like a working dog and loves playing with her tennis ball.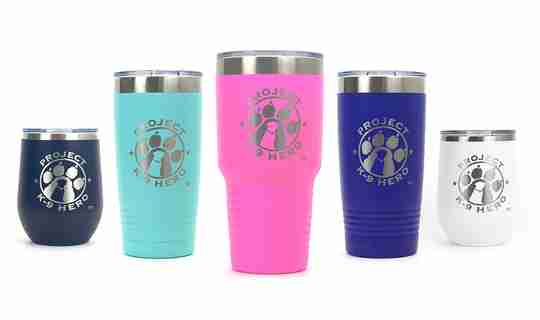 Purchase drinkware. Support K-9 Heroes.
For a $30-$38 donation, we will send you a Project K-9 Hero 12oz Wine Tumbler, 20oz Traveler Tumbler, or 30oz Traveler Tumbler. Each laser engraved, stainless steel mug features double-wall vacuum insulation with a clear lid. Our tumblers are 2X heat & cold resistant compared to normal travel mugs and are BPA and lead-free. Enjoy premium drinkware while supporting our nation's retired Military Working Dogs and Police K-9 Heroes.