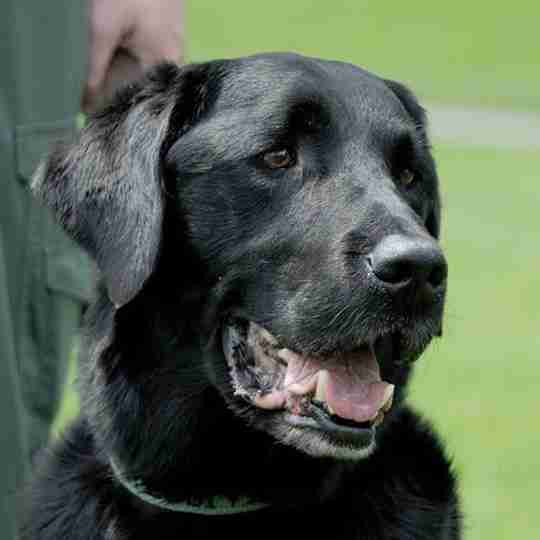 Name: K-9 "Kurt"
Agency: Federal Bureau of Investigation (FBI) 
Discipline: Single Purpose Explosives Detection 
Breed: Labrador Retriever Mix
Date of Birth: May 17, 2004
End of Duty: January 7, 2018
Sex: Male
Formal Schooling/Certifications: Eight-week ATF Explosives Detection Course in Front Royal, VA; Certification in ATF Operational Searches and National Odor Recognition Test; Certified through the International Police Work Dog Association, conducted by the Fayetteville, NC Police Department
Career Stats: Worked the 2009 and 2013 Presidential Inaugurations; Assisted members of the Joint Terrorism Task Force and Violent Crimes Task Force

K-9 Kurt was originally bred and raised to be a service dog. As a puppy, Kurt was soon selected to become part of The Seeing Eye program in Morristown, New Jersey, as a guide dog for the blind. At some point early in his Seeing Eye career, it became apparent that Kurt was better suited for detection work and was then sent to the ATF K-9 Training Center in Front Royal, Virginia.
In the fall of 2006, Kurt was paired with his handler, a federal police officer who worked in downtown Washington, DC. Upon graduation from ATF K-9 training, Kurt and his handler began working at the FBI Hoover Building, searching deliveries, vehicles, unattended packages, and assisting in search warrants. One of the highlights of Kurt's first few years working was being at the 2009 Presidential Inauguration on Pennsylvania Ave. Kurt also assisted members of the Joint Terrorism Task Force and Violent Crimes Task Force. 
Kurt excelled at interacting with people and was soon known as a representative of his agency throughout the DC area. Kurt and his handler conducted many demonstrations for the public at various events and were featured in a Washington Post photo spread. Kurt continued to serve and worked the 2013 Presidential Inauguration.

After retiring in 2014, Kurt enjoyed playing in the yard, swimming, and lounging around. In his last year, Kurt needed to be on some very expensive prescription wet food so that he could eat, which Project K-9 Hero gladly paid for in full until he passed away in January of 2018. Project K-9 Hero also covered all of Kurt's final vet bills, cremation, and memorial for the family that loved him so much. Shortly after Kurt's passing, Project K-9 Hero presented his family with this beautiful custom portrait of him at his beloved FBI Hoover Building where he enjoyed working every day.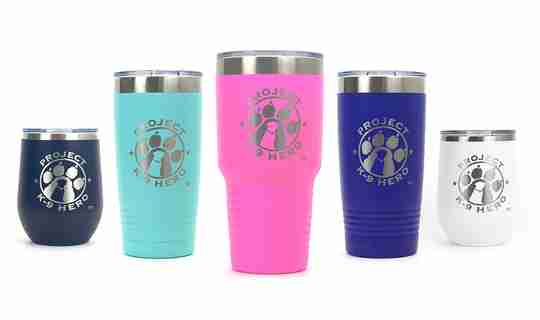 Purchase drinkware. Support K-9 Heroes.
For a $30-$38 donation, we will send you a Project K-9 Hero 12oz Wine Tumbler, 20oz Traveler Tumbler, or 30oz Traveler Tumbler. Each laser engraved, stainless steel mug features double-wall vacuum insulation with a clear lid. Our tumblers are 2X heat & cold resistant compared to normal travel mugs and are BPA and lead-free. Enjoy premium drinkware while supporting our nation's retired Military Working Dogs and Police K-9 Heroes.