Career Stats: Lori was a canine for Puppies Behind Bars (PBB) at Edna Mahan Correctional Facility for Women, New Jersey. After her short stint in prison, she was transported to the (ATF) Canine Training Center in Front Royal, VA where she began her training to become an Explosive Detection Canine.
In July 2010, Lori was partnered up with Criminal Investigator Deputy U.S. Marshal Hank Shafer. They both successfully completed their training in November 2010. Upon arriving home from the K9 Academy on November 27, 2010, they were called out two days later to conduct their first search. They were requested by the U.S. Marshals Pacific Northwest Violent Offender Task Force, to conduct a search of a vehicle belonging to a Federal Fugitive. Lori successfully alerted on the truck which contained 8 firearms. That was a great way to start out our partnership together.
Lori was involved in many searches with the local and federal law enforcement agencies where she found hundreds of firearms, ammunition and shell casings used in crimes to include homicides. Word of Lori's successes got around fast. She and CIDUSM Shafer assisted the Joint Terrorism Task Force (JTTF) in many searches where she found Home-Made Explosives. One of Lori's memorable cases was the attempted MLK parade bombings. Lori and CIDUSM Shafer were called to the scene to conduct a search of the surrounding area for a secondary device. Lori alerted on a vehicle
only 20 yards from where the explosive backpack was found. Fortunately, the only thing found in the vehicle was bottle rockets. Lori and CISUSM Shafer assisted the JTTF for many months after until the subject was found. After the arrest of the subject, Lori and CIDUSM Shafer conducted searches of the subjects' home and the subjects' parents' home. Lori alerted on the bomb making materials and found a second explosive device.
During Lori's short two years, she has conducted many protection details. Those protection details consisted of but not limited to protecting Federal Judges, Supreme Court Justices, Governors and Presidential Candidates. In early 2012, Lori started having a hard time walking. Every time she would stand up she would limp very badly. We continued to work and were still very successful but when she would find a firearm, she would be in so much pain that she would not accept her award, which was food. After many trips to the veterinarian, they concluded that she had bilateral elbow dysplasia.
Even though Lori only worked two short years, she was very successful. She found hundreds of firearms that were taken off the streets and she had found many components of explosives. Her success has directly saved many lives. In the Fall of 2017, Project K-9 Hero assisted Lori with a $3000 surgery she needed to fix some ligament damage in her leg.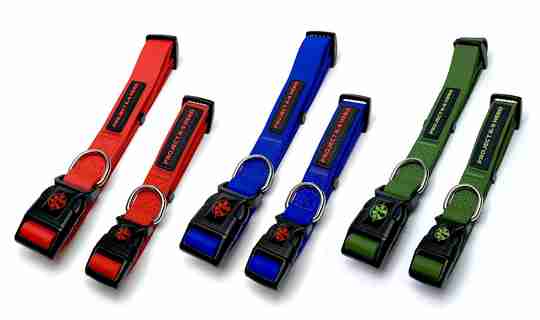 Give to your dog. Give to K-9 Heroes.
For a $22 donation, we will send you a large "Project K-9 Hero Dog Collar." Choose from five different color combos. The Collar features a secure, side-release snap buckle with our logo on it and a strong, steel gunmetal grey "d" ring for easy leash attachment. This Collar will look great on your dog while showing support to protecting those who protected us. Also available in size small.