MULTI-PURPOSE CANINE (MPC) "SPIKE"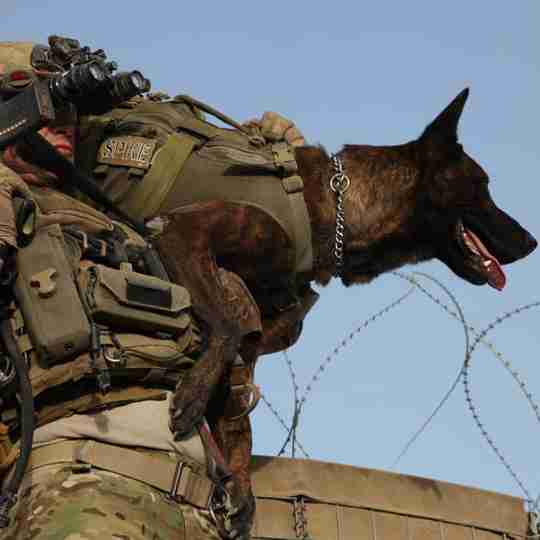 Name: MPC "Spike"
Agency: United States Army, 75th Ranger Regiment, 2nd Battalion
Discipline: Multi-Purpose: Tracking/Trailing – Detection – Apprehension/Controlled Aggression
Breed: Dutch Shepherd
Date of Birth: October 26, 2008
End of Duty: December 12, 2018
Sex: Male
Formal Schooling and Certifications: MPC Spike attended a specialized training course that was specifically designed for the operation of the U.S. Army Rangers. Due to the nature of their mission, the location and length of their MPC training program is confidential.
Career Stats: MPC Spike completed three tours in Afghanistan with the 75th Ranger Regiment. The motto of their unit is "Rangers Lead the Way", and as one of their elite canines, Spike lived up to that motto throughout his career. U.S. Army Rangers stand ready to deploy anywhere in the world in 18 hours notice. MPC Spike was an essential member of this highly trained and rapidly deployable light infantry force. MPC Spike was trained and proficient in engaging Taliban forces in close combat and direct fire battles. Although all of MPC Spike's missions remain classified by the U.S. Special Operations Command, his job was to engage the enemy in close combat and direct-fire battles. MPC Spike was an invaluable asset to the 2nd Battalion of the 75th Ranger Regiment by Leading the Way during direct action operations, raids, personnel and special equipment recovery, and special light infantry operations.
Additional Information: MPC Spike retired from the U.S. Army on June 16th, 2014, after a very long and successful career protecting our country. Like all Military Working Dogs, once Spike retired from serving our country, his medical care was no longer funded by the U.S. Government. However, MPC Spike was lucky enough to be able to be adopted by his military handler and family, who loved him so much, to live out his retirement at their home in Wisconsin.
Four years into his retirement, MPC Spike was diagnosed with a very aggressive case of Lymphoma. This is a medical condition that is treatable, however costly to combat. The treatment plan for MPC Spike was estimated to cost over $7,000, and he entered into a new fight for his life. Within 24 hours of MPC Spike's owner contacting our non-profit for assistance, our Founder and Executive Board made a unanimous decision to place MPC Spike in our program immediately, due to his special needs and financial burden on his family.

Project K-9 Hero was able to immediately pay Spike's initial Oncology visit which was over $1,200 for the testing alone. Through our generous donors and sponsors, Project K-9 Hero is committed to making sure MPC Spike receives the medical care he needs to give him the best possible quality of life in retirement. We at Project K-9 Hero feel that MPC Spike spent his career protecting us, now it is our turn to make sure that he receives that same level of commitment that he showed our country during his service to the U.S. Army 75th Ranger Regiment.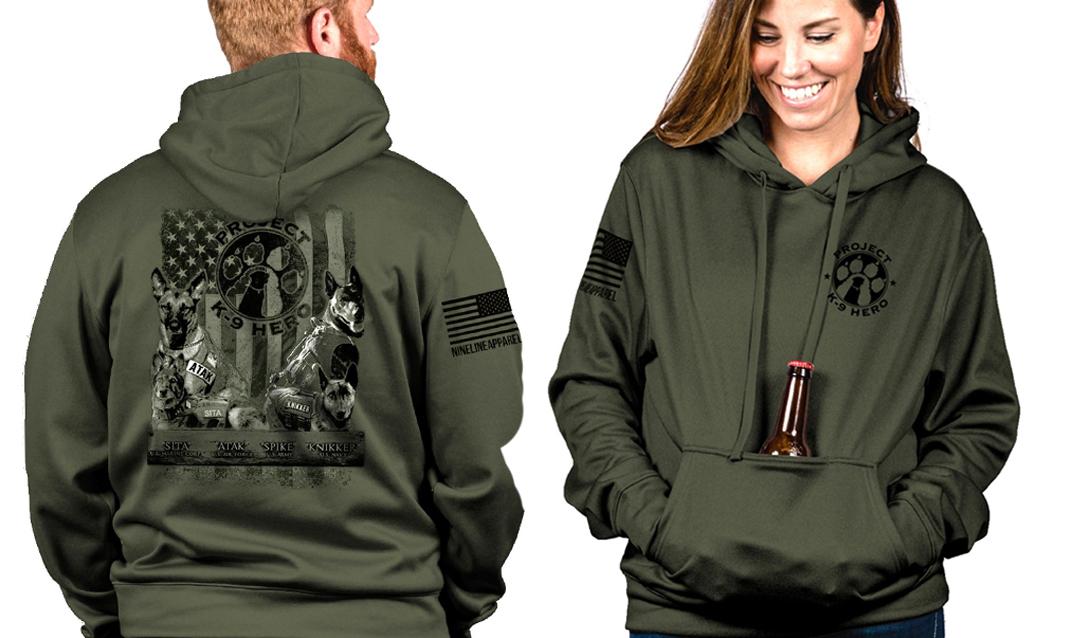 Stay warm and support K-9 Heroes.
For a $55 Donation, we will send you a "Project K-9 Hero MWD Tailgater Hoodie" by Nine Line in OD Green. This hoodie will look great in your wardrobe while showing support for a cause protecting those retired K-9 Heroes that protected our communities. This 100% polyester athletic hoodie is built for any party or tailgate, with a built-in insulated beverage holder right in the pouch pocket!