Career Stats: MPC Sepp is the 200th dog to join our program!
Project K-9 Hero is proud to announce the milestone admission of our 200th pack member, Sepp, a Belgian Malinois who served with the United States Army's 75th Ranger Regiment, 2nd Ranger Battalion from 2015-2019. Sepp started as a champion sport dog, born in Holland, who was chosen to be trained and serve as a Multi-Purpose Canine on four deployments to Afghanistan. Since his retirement, Sepp has developed numerous medical conditions that are financially difficult for his still active duty handler, Tyler Jobe, to manage. Project K-9 Hero is honored to be able to offer 100% medical support for Sepp for the remainder of his life, since there is no government support available to these dogs once they retire. 
Tyler Jobe, active duty soldier, used to be a K-9 Handler in the Army. His Belgian Malinois, Maiko, was killed during their last mission, on their very last deployment together in Afghanistan. "I was pretty hurt losing my dog on the last mission of the last deployment," Jobe said, "and Sepp was like 'don't worry, I'll be your Malinois.'"
Jobe had worked alongside Sepp on all of his deployments until Sepp was retired due to behavioral and medical issues. He originally went home with his handler, Jaime Matticks. Unfortunately, Matticks' newborn baby had severe allergies to Sepp, and Sepp wasn't able to stay in that home. Being the obvious next best choice, Jobe stepped in. "I'd known Sepp from the start and I was one of the handlers that went out of my way to make sure Sepp was taken care of, and I could handle him. The only reasonable person to take him was me."
Being a high-energy dog who was trained to bite, Sepp wasn't an easy commitment for Jobe to make. "I was nervous at first to have him in the house, and rather scared, because of his reputation for being an aggressive and mean dog. He was separated from other dogs. He was self destructive. He got kennel sores from pacing all the time." 
But Jobe didn't give up on Sepp. And once he retired, Sepp's personality changed quite a bit. "Sepp realized he was out of that stressful environment and calmed himself down," said Jobe. "He's adapted to the couch now. He used to bite you if you didn't give him attention, but now he puts his paw on you and nudges soft and sweet or just stares. His best friend is an 8-pound chihuahua. I trust him around babies."
Since Sepp's retirement, the two have been inseparable. Yet, like many dogs who have served America as Military Working Dogs or Police K-9s, Sepp developed a lot of medical problems that caused a hardship for Jobe to manage. Luckily, one of Jobe's friends is handler to Lennox, another Pack Member of Project K-9 Hero. "I was at his wedding and we were talking about some of the issues Sepp was having and how everything was piling up. I ended up prioritizing Sepp's healthcare to what I thought was important, and it wasn't cutting it all the way. So he said you have to reach out to [Project K-9 Hero Founder and CEO] Jason Johnson."
Sepp suffers from serious allergy issues. He's on a special diet in an attempt to control the hot spots that infect his skin most seasons of the year. He's using special shampoos to help, but Jobe wasn't able to afford the allergy testing that might shed a better light on the cause. He was also on anti-anxiety medications, but Jobe had to stop buying them due to costs. 
Sepp has also developed issues with his paws. "After retirement, he fell and broke his toe so badly, we amputated it," Jobe said. "It was not the cheapest procedure to do and it was out of pocket because the Army didn't pay for it. Now he's developed a giant mass where that incision used to be. He might have nerve damage or phantom limb pain from that procedure, so he licks at his paws and developed a giant sore where the toe used to be. I need to bring him in and get the mass reduced because it's the size of a golf ball." 
Jobe is also facing an estimated $5,500 dental expense. "The biggest burden on me is having to decide what I can afford with my budget to give Sepp so that he's comfortable," Jobe said. "He's also had 3 GI tract infections. He's on a super strict diet. He can't have any treats. I don't have the budget to pay for all that."
This is where Project K-9 Hero steps in, to help keep Sepp healthy and comfortable after his service to America, by covering his medical bills at 100% for the rest of his life. 
"It is an honor for our organization to help retired working dogs get the care that they deserve in retirement," stated Jason Johnson, Founder and CEO of Project K-9 Hero. "Heroes like Sepp serve with distinction everyday in our communities and overseas to protect American Lives. We believe in providing them with the absolute best medical care available after their service. That is exactly what our nonprofit offers through the generous donations of our supporters." 
Jobe feels that Sepp is a hero because he didn't volunteer for the missions he participated in, but he still did great things for the country. "He's done some pretty high-profile missions that will never be known to the general public for security reasons," Jobe said. "But he's part of the bigger cause. He's a part of the team."
When asked how his life would change with Sepp becoming part of the PK9H pack, Jobe turned the attention back to Sepp. "I don't see my life changing. I see Sepp's life getting better," Jobe said. "His issues can get better. And it's all about him. These are his golden years and I just want him to be happy. We are best friends. I love him so much. This dog literally completes me."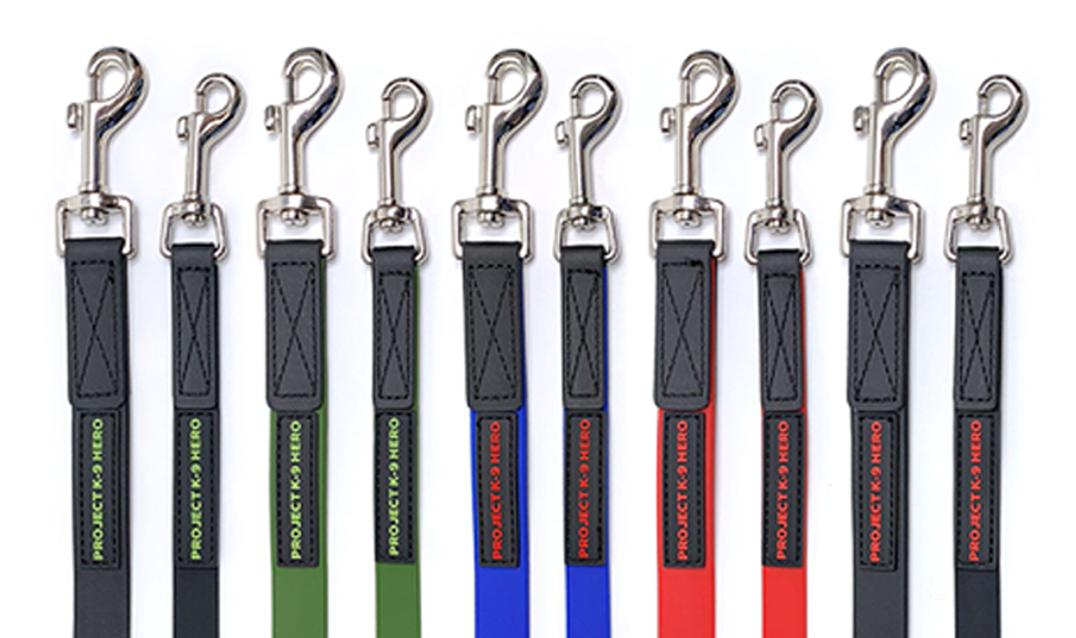 Buy a lead. Support K-9 Heroes.
For $28, we will send you a large "Project K-9 Hero Dog Lead." Choose from five different color combos. The lead features a comfort grip handle thanks to the foam lined interior. On the other end is a high quality gunmetal grey bolt snap for easy collar attachment. This lead will look great on your dog while showing support to protecting those who protected us. Also available in small.