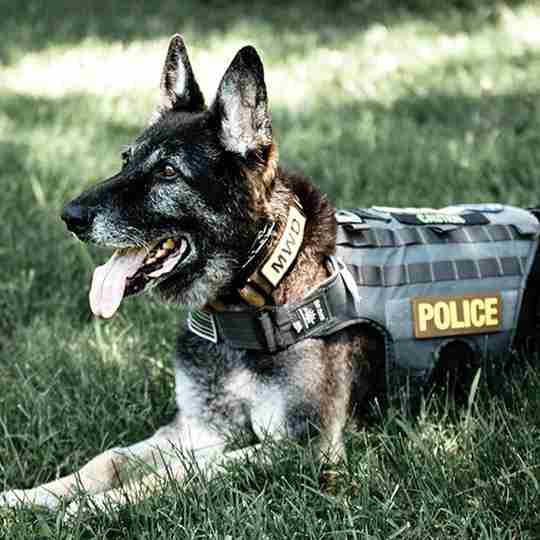 Name: MWD "Sita" (P110)
Agency: 3rd Law Enforcement Battalion, MHG, III MEF, USMC – Okinawa, Japan
Discipline: Dual Purpose Patrol/Explosives Detection
Breed: German Shepherd
Date of Birth: January 21, 2008
End of Duty: August 17, 2018
Sex: Female
Formal Schooling and Certifications: Military Working Dog (MWD) Sita attended her initial training at Lackland AFB San Antonio, TX. She was trained in Patrol, Apprehension, Tracking, Article and Building Searches from December 2009 to November 2010.
Upon completion of her training, Sita was moved to Camp Hansen, Okinawa Japan where she provided force protection and law enforcement operations at the camp. Sita returned to Lackland AFB San Antonio, TX from in October 2011, to attend the Specialized Search Dog (SSD) training course where she excelled at locating dangerous explosive compounds off-leash.
Career Stats: MWD Sita's career statistics are still being held by the USMC.

Sita returned to Okinawa, Japan, August 2012 until she attended a three-week pre-deployment advanced skills course in Yuma, AZ. After pre-deployment training, Sita returned to her unit in Japan in September, 2012, where she worked until May, 2013. Sita then reported to Camp Lejeune, NC to attend the Israeli Specialized Search Dog course. Upon completion of the Israeli SSD course, Sita once again returned to her unit on Okinawa, Japan, to work until her retirement in the fall of 2014.

Sita is trained to respond to verbal, as well as non- verbal commands. Sita also takes verbal commands in two languages (English/Japanese).
MWD Sita was a member of the Unites States Marine Corps 3 rd Law EnforcementBattalion for the duration of her career. Sita officially retired in November 2014, and was adopted by her current handlers K.A. Mathias (an active duty Captain inthe USMC) and her husband P.R. Mathias (a Marine Corps infantry veteran and civilian law enforcement veteran). She took up residence with her adopted handlers while still living in the village of Ginoza, on the island of Okinawa, Japan. She made yet another cross global return trip to the United States, and currently lives in Stafford, VA just outside Marine Corps Base Quantico. Sita still loves to work and be active by still practicing her search skills, obedience commands, and bite work.

Sita was filmed in for the documentary "Canine Soldiers – The militarization of love" in 2012, which is currently available to view on PBS (as well as On Demand).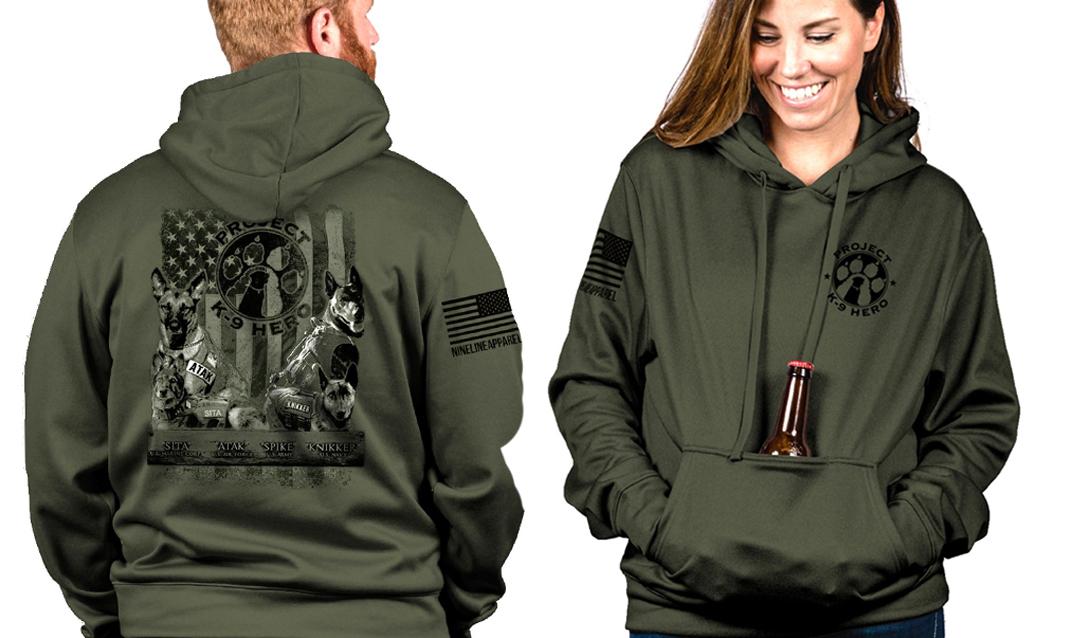 Stay warm and support K-9 Heroes.
For a $55 Donation, we will send you a "Project K-9 Hero MWD Tailgater Hoodie" by Nine Line in OD Green. This hoodie will look great in your wardrobe while showing support for a cause protecting those retired K-9 Heroes that protected our communities. This 100% polyester athletic hoodie is built for any party or tailgate, with a built-in insulated beverage holder right in the pouch pocket!